Daniel Zohny: After law school in Bayreuth and bar exam in Düsseldorf, Germany, I obtained my LL.M. in Intellectual Property from Cardozo Law School in 2006, focusing on trademark and copyright, and subsequently passed the New York bar. I then worked some five years in private practice in NYC. In 2010 I moved to Switzerland to take up an in-house position. Since 2013 I am with FIFA, the world governing body of football (soccer) in Zurich, and am now Head of IP.
Felix Wu: I am a Professor of Law at Cardozo Law School and Faculty Director of the Cardozo Data Law Initiative. I have been at Cardozo since 2009, and my teaching and research fall within the Intellectual Property and Information Law Program at Cardozo, in areas such as privacy and data protection, freedom of expression, and trademark law.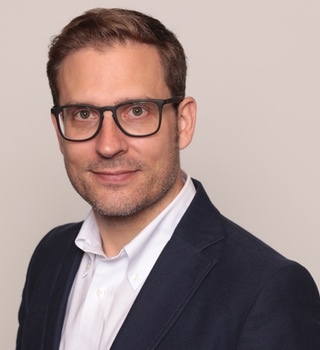 "Cardozo education is innovative": Prof. Felix Wu (left) and Daniel Zohny (right)
Professor Wu, which programs are available, and how did the Cardozo School of Law in New York started them, and how did they change until now?
Felix Wu: In addition to our J.D. program, we have several LL.M. programs, in General Studies, Intellectual Property, Dispute Resolution and Advocacy, and Comparative Legal Thought. These programs have attracted students from around the world to spend a year with us at our building in the heart of New York City. Most recently, we have established a fully online LL.M. program in Intellectual Property, with the first class set to begin in Spring 2021.

This program will allow us to bring our education to those unable to come to New York or those seeking a more flexible, part-time program.
What are the main points that the Cardozo Law School education focuses on?
Felix Wu: A Cardozo education is rooted in both theory and practice. We aim to teach students both the broad conceptual abilities that will allow them to think flexibly and thrive amidst changing laws and changing circumstances and the specific laws and skills they need to effectively counsel clients today. This approach describes, for example, both my approach to individual classes and also the outlook of the program as a whole, with its mix of core doctrinal classes, more specialized classes (often taught by leading practitioners), and experiential opportunities.

Cardozo education is also innovative. Courses engage with cutting-edge issues, but also professors think carefully not just about what to teach but also how to teach it in an engaging and effective way, far beyond merely lecturing on the material. This innovation extends to our online program, which is designed to take full advantage of all that an online platform has to offer.
---
Want some more information about Cardozo School of Law in New York City?
Find out more about different LL.M. programs!
---
Previously you worked as an associate. However, what literally made you change your profession later and choosing the Cardozo Law School?
Felix Wu: I very much valued my time in practice and the insights I gained while working on novel issues on behalf of clients. Becoming a professor, however, gave me the opportunity to research and write on a broader array of issues, and importantly, to teach and shape future generations of lawyers in these areas. As for how I chose Cardozo, I knew when I met the other professors here that these were people I wanted to be colleagues with. That was true when I started and remains true today.

Why should a former student from Germany choose the Cardozo School of Law, if he wants to reach an LL.M.?
Felix Wu: The Cardozo faculty have tremendous expertise in areas such as Intellectual Property, data and technology law, constitutional law, criminal justice, and dispute resolution, among others. I myself have lectured on privacy and data protection and on intellectual property law throughout the United States, Germany, the rest of Europe, and Asia. And that expertise is accessible to LL.M. students.

Our in-person classes are taught to J.D. and LL.M. students combined, and many of the same faculty teach both in-person and online. For example, I have taught privacy law, trademark law, and Internet law in both formats and to mixtures of different students.

Those who come to New York have the opportunity to take advantage of all the city has to offer, including internships, networking, and events, both at Cardozo and elsewhere in the city. Even students not physically in New York benefit from our New York connections, whether through courses taught by New York practitioners or New York-based events that they can attend virtually.

Moreover, we have a substantial and ever-growing alumni network in Germany and elsewhere in Europe that students can draw from both before and after they graduate.

Mr. Zohny, you first qualified as a lawyer in Germany. What led you to pursue an LL.M. at Cardozo School of Law in New York? Was it difficult to get qualified as an attorney in the US/NY?
Daniel Zohny: During my Referendariat, I trained with a Düsseldorf business law firm and was exposed to IP and unfair competition work and really enjoyed the field.

Since I had not studied abroad during university I wanted to do so before committing to an employer.

My final traineeship I spent with South Brooklyn Legal Services in NYC and used the time to look at various law schools that offered a specialized LL.M. in IP, among them Cardozo. The excellent reputation of the IP program and the fact that I was able to start in January (and did not have to wait and bide my time until August of the year after) were great selling points. The bar exam in the US is very different from the German state law exam. Part of it is multiple choice, a form of testing that is quite alien to a German lawyer. Also, just like in any other exam there is a lot of time pressure.

For non-native speakers, this aspect should not be underestimated. Overall, I would not say that it is harder than in Germany. The exam is simply different.
---
Which possibilities will be given to choosing from?
These are the attainable degrees you can reach.
---
You work now for more than ten years in Intellectual Property. How did the education at the Cardozo School of Law impact the way you work?
Daniel Zohny: My time at Cardozo had a great impact on my later career in IP. It gave me a deeper insight into IP and a different legal system. It brought my legal English skills to a whole new level, something that I still benefit from every day since my work is 90% in English. Compared to the German law school experience the education at Cardozo was more engaging with the Socratic Method at the core of classes.

Finally, the fact that my classmates were from all around the world, different approaches to the same problem, often based on cultural nuances, gave me tools that I still rely on heavily today.

What is for you the biggest difference between the practice as an attorney in Germany and the U.S.?
Daniel Zohny: The last time I worked in the legal industry in Germany is now more than 15 years ago so a lot has changed there, too, especially with the younger generation of lawyers. But from my experience, the German legal community can still be quite "formal". Whereas in the US it seems more "easy-going" in communications. There is a lot of prejudice on both sides that often stems from a different approach to dealing with a legal issue. Where a German lawyer may approach an issue more dogmatically, a US lawyer may do so more commercially minded. But again these are preconceptions. There are excellent lawyers on both sides of the aisle (and likewise not so great ones).

Furthermore, at FIFA you lead a large team of IP professionals, working on trademark law, trademark portfolio management and enforcement, copyright law, and related matters of IP protection. Have you ever thought about this option in the past?
Daniel Zohny: During my time in private practice as an associate in a (for NY standards) smaller firm with about 80 lawyers, I already realized that the billable hour was not "my thing". I moreover wanted to work on projects where I not only contribute a little piece, but also get to see and "live" the final result. This is (or back then was) rarely possible as a lawyer in a firm.

So yes, the desire to go in-house and at some point lead a team and take care of an organization's brand developed quite early on in my career.

How would you define Intellectual Property in your own words?
Daniel Zohny: IPs are the intangible assets of a person or entity, such as symbols and names; creative works; designs and inventions. IP drives innovation and is a cornerstone of a lot of businesses' net worth. Most importantly though, it's a lot of fun.
---
Does an LL.M. at Cardozo School of Law match with your plans?
Find more information about requirements and application deadlines
---

Why was Intellectual Property so interesting for you, and how did the Cardozo School of Law positively affect your career, Mr. Zohny?
Daniel Zohny: My main focus is on protecting brands. Brands tell stories to consumers. Protecting the goodwill inherently embedded in the stories and the many ways that third parties try to illicitly benefit from this goodwill fascinate me.

Also, the principles of trademark law are similar worldwide. For an in-house lawyer, it is, therefore, easier not to get "tied" to one country and be flexible as to where you may find a position.

My studies at Cardozo certainly helped define my career, since it was during that year when I finally decided that it's trademarks that I want to focus on in my professional life.

Regarding the points why you chose this law school, were they confirmed or even surpassed?
Daniel Zohny: On an academic level I had expected a good faculty when I made the decision to join Cardozo. I have to admit that my expectations were exceeded.

We had great professors at the time with, inter alia, Susan Crawford, Barton Beebe, and Justin Hughes. I know that the current program carries on the tradition of having excellent and engaging professors. From a cultural and personal point of view – it's New York City!

Visiting it as a tourist is one thing. Experiencing it by living there is a totally different ballgame. In my eyes it was a privilege to have had the opportunity to study in NYC. I took full advantage of it and made contacts inside and outside of Cardozo, many of which I am still in contact with today. Some of my LL.M. classmates became very close friends.

Ultimately it is a very valuable network, both personally and professionally.

Furthermore, you are leading today a large team of IP professionals at the FIFA. Can you give us an example of your daily work there?
Daniel Zohny: As head of IP I lead a department of currently nine specialized IP professionals and oversee all aspects of conceptualization, registration, maintenance, and enforcement of FIFA's IP, including the implementation of FIFA's enforcement program for the FIFA World Cup™ tournaments both online and onsite in the relevant host country during the event. Furthermore, I'm responsible for FIFA's ticketing enforcement efforts. Our department is a service provider to internal clients, mainly to the commercial division, since FIFA's portfolio is a very "active", income-generating portfolio. This requires a very commercial mindset and the ability of our team to find business-oriented solutions.

We strive to be enablers, not disablers.

Which case was the greatest challenge for you there?
Daniel Zohny: I cannot point to one single case. Having the opportunity to work on projects all over the world, getting to experience and dive deeper into jurisdictions where FIFA stages tournaments, such as Russia and Qatar, has its challenges but is ultimately very gratifying. It never gets boring and keeps you on your toes.

Learn more about the students' life and the alumni at the Cardozo School of Law.
Professor Wu, your first degree was the undergraduate degree in 1996 in computer science summa cum laude from Harvard. When did you start to think about law, and how do you combine your ability in both sciences?
Felix Wu: I started thinking about the law during my Ph.D. studies in computer science at the University of California at Berkeley. I worked briefly on designing digital rights management systems and in doing so came to realize that both law and technology could play a role in solving important problems, and that law and technology could interact in complex, interesting ways. Since then, I have combined my background in computer science and law on several projects, particularly surrounding privacy and data protection. For example, I have written about the problem of determining when data is sufficiently de-identified to fall outside of various legal requirements.

Answering this question fully requires one to understand both what the technology is or is not capable of and what the law does or does not mean. Understanding only the law or technology alone cannot provide a complete view of the problem.

Last but not least, for who are the programs a perfect match, and what is the unique selling point of the Cardozo School of Law, Professor Wu?
Felix Wu: Our programs are a perfect match for anyone looking for a rigorous, yet practical American legal education, particularly in our areas of expertise, such as my own fields of Intellectual Property law and data and privacy law.

Our in-person programs serve those looking to spend a year in New York, while our online program serves those looking to stay where they are or to spread out their degree work. Cardozo's combination of expertise, careful attention to teaching, extensive networks, and access to New York sets it apart from other programs.
Your Conclusion?
Daniel Zohny: I can only recommend LL.M. students to take advantage of the externships that the school offers. In your first semester, when you may be overwhelmed with all the reading, etc. you might think there is no time for an externship. Just do it. You will gain valuable experience and expand your network!
Felix Wu: I have had the pleasure of meeting many students from Germany, both the ones that enroll at Cardozo as well as those I have met while lecturing or participating in events in Berlin, Frankfurt, Munich, Hamburg, Hannover, Cologne, and Siegen. I have gained much from these interactions, as I hope the students have learned much from me, and I look forward to meeting more such students, in New York, in Germany, or online, in the years to come.
Thank you, Professor Wu and Mr. Zohny!